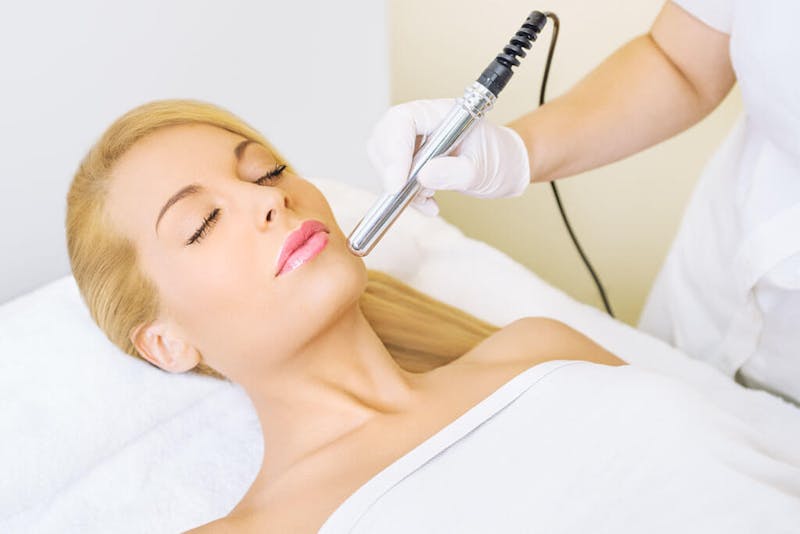 When we think about signs of aging, we often put lines, wrinkles, and folds at the top of our list. Hyperpigmentation or dark spots can give our age away almost as quickly, and they don't just appear as a sign of aging. If you're unhappy with the appearance of dark spots, there are plenty of successful treatments for you to consider. Call The Cosmetic Vein & Laser Center in Williamsville, NY and experience the best in dermatology in Buffalo.
What Are Dark Spots?
These harmless, flat spots on the skin are also called sun or age spots and are known in the medical world as hyperpigmentation. They are a result of your skin producing excess melanin. Melanin is what gives our skin its color or pigmentation. They can range from light to dark brown and even black depending on the color of your skin. These spots are the same texture of the skin, not raised, and never painful.
People can develop these spots anywhere on the body, but they are most prevalent in areas that are exposed to the sun, like the:
Face
Back of the hands
Back
Shoulders
If someone has spent a lifetime in the sun, these spots can show up in clusters on the legs, arms, and neck. These can appear as single spots or group together to form a larger area of discoloration.
What Causes Dark Spots?
There isn't just one cause of hyperpigmentation, but there is one reason your melanin gets boosted: to protect your DNA from damage. Melanin possesses antioxidant properties, so your cells, when they perceive risk of damage, are flooded with melanin. The most common cause is exposure to the sun, but there are other causes:
Change in hormones
Wound healing
Side effects of medication
Inflammation
Diabetes
Melasma
The Sun
Your mother always told you to wear sunscreen, and she couldn't have been more right. Dermatologists agree the single biggest favor you can do for your long-term skin health is to consistently wear sunscreen. This staves off all signs of aging, not just dark spots. Your skin knows when it's getting exposed to the sun.
Our skin has proteins that detect light. When these proteins sense exposure, they turn on melanin production to lessen the damage. Research is finding that even exposure to blue light and an LED light will prompt a response.
What Is Melanin?
Melanin is produced by special cells called melanocytes. The amount of melanin these cells produce determines our hair, eye, and skin color. We all have the same amount of these cells, but they produce different amounts. Melanocytes that produce small amounts of melanin will give someone light features, like blue eyes, blonde hair and fair skin.
Your genes determine how much melanin your body produces, which is why families have similar coloring traits. There are recessive genes that can make an appearance, however, and give one person from a dark-haired, dark-eyed family blue eyes or lighter hair.
Can Dermatologists Remove Dark Spots?
Dermatologists have several successful treatments they can offer for laser dark spot removal. When you're seeking dermatology in Buffalo, you and your doctor will determine the right treatment for you, your skin type and the placement and severity of your hyperpigmentation.
Fraxel Dual Laser Treatment
Fraxel Dual laser treatment is a non-invasive treatment designed to create a younger-looking appearance, including the reduction of dark spots, in just a single session. This treatment can be used on the face, hands, and body and uses microscopic laser columns to penetrate the deeper layers of your skin. This triggers your body's natural healing process and stimulates the production of collagen.
This laser targets your skin by treating just fractions of the skin at a time and leaving the surrounding tissue intact, which promotes faster healing and better results. As your body regenerates healthier cells, discoloration fades and brighter skin is revealed. There's a big bonus to this treatment: it's not just dark spots that diminish. You can expect an improvement in:
The appearance of fine lines and wrinkles
The appearance and texture of surface scars
Skin texture
Skin tone
Minimizing of pores
What to Expect
When you and your doctor have determined this is the best treatment for you, there's no preparation for you to do other than staying out of direct sunlight for a week or two prior to your appointment.
When you arrive, the treatment area will be cleansed and a topical anesthetic will be applied to the area so you remain comfortable throughout the process. Most clients describe just feeling a warming sensation. Once the area is numb, treatment takes up to 30 minutes if you're having your face done. Afterward, you'll be asked to stay out of the sun.
Results
Clients will see some immediate results like an overall brightening and smoothness. The real results are gradual as your body produces more collagen and optimal results are seen after two to three months.
How many treatments you need depends on the condition of your skin, the areas of concern you have, and the outcome you're looking for. Some clients attain their ideal results after just one treatment, while others will require 3-5 treatments spaced 2-4 weeks apart to achieve the complexion they desire.
Forever Young BBL
What makes Sciton's Forever Young BBL treatment so different from others available is that it's the only one proven to change the expression of the genes associated with aging. This is a non-invasive treatment and uses broadband light delivered to the top and middle layers of skin. This light stimulates changes in skin tone, elasticity, pigmentation, and texture.
Infrared technology provides visible complexion improvements to the top layer of the skin. It's also stimulated the production of collagen and improves the way new skin cells are regenerated by revitalizing them on a molecular level. Your skin cells will behave as if they were younger and produce more collagen and elastin than before treatment. This treatment can be used on the:
What to Expect
When you've looked for dermatology in Buffalo and found Forever Young, you'll make an appointment. You'll need to avoid sun exposure for three weeks before treatment. To start your appointment, a numbing cream is applied to the treatment area. When your skin is numb, you'll be given goggles to ensure your eyes are safe during treatment. The length of the appointment depends on the quality of your skin, the results you are looking for, and the area being treated.
When your appointment is over, your doctor will give you after-care instructions to follow to expedite and maximize your results. There is no downtime with this treatment, but you will need to avoid sun exposure for at least a month.
Results
This treatment will provide an immediate brightening effect. The long-term and transformative results come as collagen and elastin regenerate healthy skin cells. You'll notice brown spots fade over the weeks and months following treatment. Other results from Forever Young BBL are:
An evening of skin tone
Reduction of acne and acne scars
Improvement in the appearance of fine lines and wrinkles
Improved elasticity and firmness of the skin
Improvement in moderate-to-severe lines and wrinkles
Shrinking of pores
Improvement in rosacea and other discoloration
Some patients may experience the outcome they want after just one session. Discuss the best course of treatment with your doctor. Your skin condition and desired results may require more than one session.
Pigmented Lesion Laser Therapy
Sometimes dark spots are more bothersome than a lightly colored sunspot. Dark birthmarks can negatively affect the aesthetic of a client's complexion. Using a safe wavelength, pigmented lesion laser therapy targets and disrupts the deeper layers of the skin. This laser leaves the outer layer unharmed.
The melanin absorbs the laser light, and the pigment is broken down and then shed by the body. This is a versatile treatment and can be used on the:
Face
Arms
Back
Chest
Hands
What to Expect
When you and your doctor have decided this is the right treatment for the dark spots on skin you'd like to address, you don't have to do any preparation other than staying out of the sun. When you arrive, a topical anesthetic will be applied to your skin and you'll be given goggles to protect your vision from the laser. Once your skin is numb, a handpiece will be placed against the surface of your skin, which activates the laser.
Some devices have a cooling device built-in to ensure you're completely comfortable during treatment. If they don't, your doctor will apply separate skin-surface cooling. When you're done, there is no downtime.
Results
The results will appear as the body breaks up and absorbs the pigment from the lesion or spot. The number of sessions you need will depend on the area being treated and what kind of spot is being targeted. Port-wine stains may require more treatments than dark spots. You and your doctor will devise the right treatment plan for your needs.
Other Skin Resurfacing Treatments
If you suffer from new or light hyperpigmentation, you may find results in some skin resurfacing treatments. These all work to remove the top layer of skin. When this happens, your body increases its production of collagen and regenerates healthier and brighter cells to replace the hyperpigmentation.
When you're looking for dermatology in Buffalo, ask about the availability of resurfacing treatments.
Microneedling
Also referred to as collagen induction therapy, this treatment works by using a handheld device called a SkinPen and its hair-thin needles. When passed over the skin, this pen creates micro-injuries that trigger your body's production of collagen. Skin will look brighter and younger when those micro-channels are healed.
Microdermabrasion
Another skin resurfacing treatment, microdermabrasion uses tiny crystals on the surface of the skin to "polish" your complexion. This gentle exfoliation of the top layer of skin cells triggers the production of collagen and give your skin a brighter, more youthful glow.
Chemical Peels
Using glycolic acid, a naturally recurring molecule in fruits and sugar cane, this peel can improve the appearance of:
Fine lines and wrinkles
Dark spots
Overall dull tone
Uneven skin texture
This glycolic acid solution is applied to the face and removed three to five minutes later. The solution will gently slough off the top layer of your skin cells, producing a brighter and younger-looking complexion. You can tailor your results by adding more peels to your skincare routine.
Dermatology In Buffalo
If you've made the decision to tackle your brown spots and want real and effective results, you shouldn't put off making an appointment to positively impact your appearance.
Call The Cosmetic Vein & Laser Center in Williamsville, NY to schedule your consultation. One of our skincare specialists will review your areas of concern and the results you'd like and be able to make a treatment recommendation that will provide you with a brighter and clearer complexion.