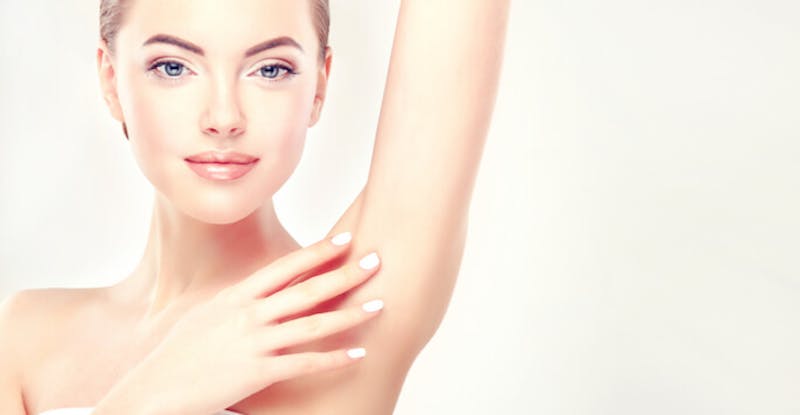 Underarm sweat can be unpleasant, to say the least. Having to constantly worry about visible sweat patches can affect what you wear, where you go, and how you enjoy your life. For many, however, underarm sweat is a reality that they have to deal with on a daily basis. People who suffer from severe underarm sweating can find it limiting in life and, for many, home remedies simply will not work. miraDry® treatment is a great option that can stop underarm sweating after simple one-hour treatment. Here we explore ways in which you can stop underarm sweating.
Use Clinical Antiperspirant
Clinical-strength antiperspirant could be your answer to excessive underarm sweating Most store-bought antiperspirants will not work for excessive underarm sweating, so you should look for products that have 12% or higher content of aluminum chloride. This can help prevent hyperhidrosis. While this will stop underarm sweating in many cases, you should be aware that irritation can commonly occur through the prolonged use of such high-strength treatments.
Watch What You Eat
Many foods can also be sweat triggers and may worsen both the occurrence of your underarm sweat and the odor released. Spicy foods, in particular, can promote sweating, but coffee and other caffeinated foods and drinks can as well. One way to help prevent this is to control your food intake, but doing so will be limiting the foods and drinks that you can consume.
Promote Regular Sweating
Taking regular exercise and releasing endorphins can help your body to learn to sweat more naturally. Following exercise, you will be more relaxed and less likely to experience adrenal responses that can cause excessive sweating to occur. To help stop underarm sweating in this way, you will need to do around 30 minutes of exercise for five days of every week.
miraDry® Treatment
miraDry® is a treatment that safely reduces underarm sweating by attacking the sweat glands in the armpit and causing them to close permanently. This treatment will target and destroy the sweat glands so that they never come back, and in doing so, can stop underarm sweating. For those struggling with excessive sweating, this can be life-changing treatment that promotes both self-confidence and overall.
To find out how to stop underarm sweating with miraDry® treatments and to book your initial consultation, contact the experts at Cosmetic Vein and Laser Center in Williamsville today!