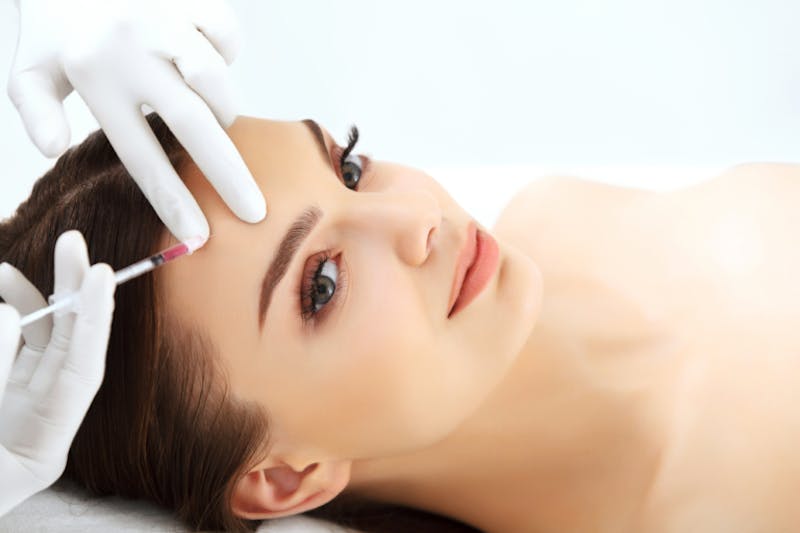 As you go through life, you will smile, laugh, and make many other facial expressions. Although being an expressive person is natural and normal, these repeated facial movements will create lines and wrinkles. Fortunately, erasing these lines is easy. At The Cosmetic Vein & Laser Center in Williamsville, New York, we can use injectable treatments like Botox and Dysport to give you smooth, youthful-looking skin.
Botox and Dysport are injectable products that can temporarily reduce the prominence of your wrinkles and lines. These products are called neuromodulators because they affect the behavior of your nerve signals. Receiving one of these products will not prevent you from using other neuromodulators to enhance your appearance. In fact, it's common to use a combination of injectable treatments to smooth your skin.
Combining Treatments
Since each of these treatments may be better at smoothing different types of facial wrinkles, you might benefit from using several injectable products to enhance your appearance. For instance, one scientific study indicated that Dysport is more effective at treating people's crow's feet than a competing neuromodulator. As a result, you may achieve more significant improvements if you use a combination of these treatments to address wrinkles in different locations on your face.
Switching Between Products
Since each of these products has a unique formulation, your body may respond differently to each treatment. As a result, you might also benefit from alternating between different types of neuromodulators. For instance, if you do not achieve your desired look with Botox, you might have better results if you use a different neuromodulator after your original treatment has worn off.
Since prolonged use of one neuromodulator can cause you to develop a tolerance to that product, switching between different options can also help you achieve favorable results over a longer period of time. For instance, if you have been using Botox for many years, your injections may become less effective over time. You may achieve better results if you switch to a new injectable treatment.
How Do These Injectable Treatments Minimize My Wrinkles?
These products use an innovative technique to smooth your wrinkles and lines.
Effecting Your Nerve Signals
Both of these products contain an active ingredient known as botulinum toxin. This substance, which is made by a bacterium called Clostridium botulinum, is very good at temporarily improving the appearance of your wrinkles. Botulinum toxin minimizes your lines and wrinkles by changing the way that your nerve signals interact with your muscles.
After we inject your chosen product into your target area, the active ingredient in the solution will stop the nerves in that location from sending signals to your facial muscles.
Relaxing Your Muscles
Disrupting these signals will stop your muscles from making the repetitive movements that cause you to develop wrinkles. For instance, if we inject the product into your forehead lines, your muscles will stop making the facial movements that cause the skin on your forehead to crease and fold. As these muscles relax, your wrinkles and fine lines will become less prominent.
Will My Injections Be Uncomfortable?
Many cosmetic treatments and procedures can be lengthy and uncomfortable. Further, you might have to spend a long time at home while your body recovers from your appointment. Fortunately, these injectable treatments do not have any of these drawbacks. Instead, administering your injections is a quick, easy process. In fact, you can receive your treatment during your lunch break and return to work once your injections are complete.
We will begin your treatment by gently cleaning the skin in your treatment area. Next, we will inject your chosen product into your target location. You will feel relaxed during this process. After we have completed your treatment, you can go right back to your job and other tasks.
When Will I See Improvements in My Face?
These products work quickly, and you won't have to wait very long to see significant improvements in your appearance. Although your individual results will vary, it's common for these treatments to improve your wrinkles within two or three days. You will likely see the full benefits of your injections within two weeks.
How Much Product Will I Receive?
Since these products have unique formulations, they have different dosage requirements. Further, we will customize your injections to fit the severity of your wrinkles and the aesthetic goals that you are trying to achieve.
In particular, if you want to minimize deeper lines that appear in many areas of your face, we are likely to use a larger dose of your chosen product. If you are trying to erase fine lines in one location, you will probably receive a smaller dose. We will give you more information about your anticipated dosage requirements during your initial meeting with us.
How Long Will My Results Last?
Although these treatments are very effective, they will not permanently improve your wrinkles. Over time, your body will adjust to this treatment, and your muscles will begin to move again. As this process occurs, your face will gradually return to its previous appearance.
Since your body may accomplish this task more or less quickly than other people, your results will be unique. In general, the longevity of your improvements will depend on the condition of your wrinkles, the amount of product that we administered into your treatment area, and other factors. That said, if you received Botox, your improvements are likely to persist for three to four months. If you used Dysport, your results may last for four to five months.
Will I Be Able to Move My Face After I Receive My Injections?
You might have heard people claiming that these injectable treatments will freeze all of your facial muscles and prevent you from smiling, frowning, and making other expressions. Fortunately, these rumors are not accurate.
These injectable treatments can relax the muscles in your target area without affecting the movement of the muscles in other locations on your face. Accordingly, you will still be able to laugh, smile, and frown after you receive one of these injectable products.
Further, we have a great deal of experience using these products to produce natural-looking results, and we will administer your injections in a careful, refined manner. As a result, your treatment will improve your wrinkles without making your face look unnatural or stiff.
Can I Combine These Treatments With Dermal Fillers?
You can combine dermal fillers and neuromodulators. In fact, it's common to receive a neuromodulator like Botox at the same time as a dermal filler.
Dermal Fillers
Dermal fillers are injectable products that smooth your skin and add volume to your face. These treatments do not contain botulinum toxin. Instead, they use ingredients like hyaluronic acid to improve your skin.
This acid is very good at adding volume to specific locations on your face, and we often use hyaluronic-acid based fillers to fill in your wrinkles and enhance specific facial features. For instance, products in the Juvederm and Restylane collections of dermal fillers can smooth smile lines around your mouth and nose. Some of these products can also restore lost volume to your face and lips.
A Liquid Face Lift
If you are interested in using dermal fillers and neuromodulators to enhance your look, you might benefit from receiving a liquid face lift. This minimally invasive technique uses a customized set of dermal fillers and neuromodulators to make you look younger and more attractive. This treatment provides dramatic results that can make you look five years younger than you actually are. Further, your enhancements may last for six to eighteen months.
Your liquid facelift will be tailored to address your unique cosmetic objectives and preferences. For instance, if you have hollow cheeks, we might add volume to this area of your face with one of the dermal fillers in the Juvederm collection. If you have wrinkles on your forehead and around your eyes, we can minimize these lines with a neuromodulator.
Are These Injectable Products Safe?
These injectable treatments are among the most widely used and best-established cosmetic treatments in the world. In 2002, the FDA approved Botox for the purpose of reducing moderate-to-severe frown lines. Since then, medical professionals have used this product to successfully reduce many people's wrinkles.
Although Dysport is not as famous as Botox, people have been using this product to reduce their wrinkles for a very long time. In fact, the FDA approved this product for the purpose of treating wrinkles more than ten years ago.
These treatments have become increasingly popular over time, and healthcare professionals administered almost two million treatments using botulinum toxin-based products in 2019. As a result, you should feel confident when you use either of these products to smooth your skin.
Can I Receive a Generic Version of These Products?
You might have come across people who claim to provide generic versions of Botox and other injectable treatments. These people often promise that their injectable solutions will produce the same results as the authentic versions of these products. To encourage you to use these products, they sometimes offer very low prices for their injectable treatments.
You should not try to save money by receiving treatment from these people. There are no generic versions of either of these injectable products. The authentic versions of these injectables are made using specialized manufacturing processes that are designed to create safe, effective products. To protect yourself, you should always receive treatment from trained healthcare professionals who use authentic products.
Am I Eligible to Receive These Treatments?
Since these injectable products are designed to enhance your skin in a safe, comfortable manner, you will probably be a good candidate for these treatments. That said, we will examine your skin and talk about your medical history before we administer your injections. At this point, you should tell us about any health conditions that you have, including any bleeding disorders or issues that affect your nerves or muscles.
You cannot use either of these products if you have an allergy to any of the ingredients in your chosen product. Further, you are ineligible for these treatments if you have had an allergic reaction to other botulinum toxin-based products like Xeomin or Myobloc in the past. In addition, you should not receive these treatments if you have an active infection in your target area.
Minimize Your Wrinkles
Injectable products like Botox and Dysport can smooth your wrinkles and make you look younger and more vibrant. These treatments are very gentle, and you'll feel comfortable as we administer your injections. To learn more about these wonderful products, contact us at The Cosmetic Vein & Laser Center in Williamsville, New York for an initial consultation today.