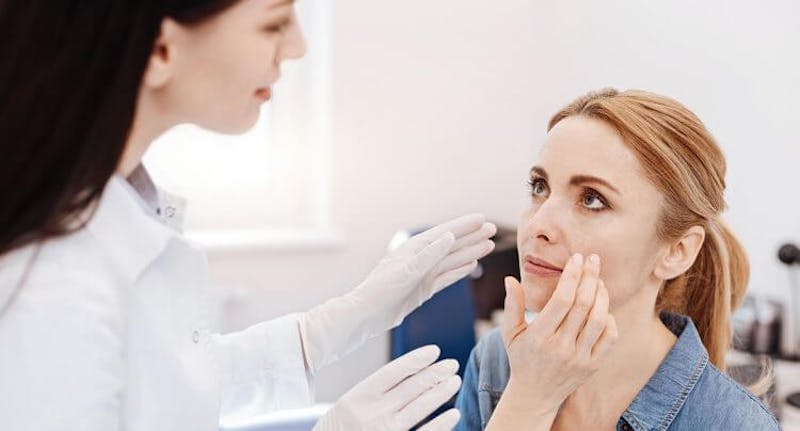 When you grew up, you stopped seeing your pediatrician and got a general health practitioner. Since then, you've taken care of your body from the inside: but what about your skin? At the Cosmetic Vein & Laser Center in Buffalo, NY, you'll find the perfect partner to ensure your skin stays healthy and young.
How to Find the Best Buffalo Dermatology Practice
1. Get Referrals
The best Buffalo dermatology practice will be more than willing to provide you with references, and you should talk with current clients to get a sense of the level of care and attention provided by the staff. You may also ask your general health practitioner for a referral. Talk to your friends, family, or coworkers about their experiences with a particular dermatology practice.
Once you have narrowed down your list of potential Buffalo dermatology practices, reach out to each dermatologist's office and ask if the practice is currently accepting new patients. Request an initial consultation to meet and interview the dermatologist to see if they are a good fit for you.
2. Research the Dermatologist's Credentials
After your initial consultation with the dermatologist, research credentials. The most critical factor in picking the best Buffalo dermatologist is board certification. A board-certified dermatologist has gone through extensive training and has the practical and personal skills and experience to improve the health of your skin.
During your initial consultation, ask about where your potential dermatologist attended medical school, what certifications they have, and which hospital they trained with.
3. Consider the Dermatologist's Experience
When it comes to the health of your skin, hair, and nails, experience matters. When your health is affecting your appearance, you want a dermatologist familiar with the conditions that can change the skin and experienced in getting good results. Experience also allows your dermatologist to explain all your options to you clearly and concisely, reviewing all the pros and cons of each method and helping you decide which treatment is right for your skin type and unique condition.
4. Consider Gender
Gender may not be a deciding factor for everyone but it's important you feel comfortable with your dermatologist. You will need to be comfortable enough to speak openly about whatever you're experiencing. Men and women require different types of care, so make sure your dermatologist is trained and experienced in treating conditions based on your gender and that you feel comfortable talking.
5. Research the Hospital
When most people think of dermatology, they don't think of hospitals. This is an important consideration, though. If you have skin cancer, for example, your dermatologist's hospital will be your hospital. Research your dermatologist's hospital to make sure you'll receive the quality of care you need if you have to go.
Ask if your dermatologist's hospital works with your insurance provider and make sure it's conveniently located. The last thing you want is to not get timely care when it is necessary because a hospital is out of network.
6. Assess Communication Style
Just as it's important to be comfortable speaking openly about your conditions, it's important you understand your dermatologist. During your initial consultation, evaluate how your dermatologist communicates with you. Does he take the time to get to know you? Does he answer all your questions clearly and concisely?
Are your questions welcomed, or do you feel like he has something else on his mind? Do you feel engaged during your consultation, or do you feel rushed? If you don't understand the answer to your question the first time, does your dermatologist take the time to answer again in a different way? The best Buffalo dermatology practice will show an interest in getting to know you, take into account your treatment preferences, and help you in your decision-making practice rather than only suggesting the most expensive option.
7. Ask About Insurance
Just as you should make sure your Buffalo dermatology practice works with an in-network hospital, you should ask if the practice works with your health insurance provider. Just remember: even if you have to pay out of pocket for your dermatology care, experience, credentials, and hospital quality are of the utmost importance.
8. Review Patient Satisfaction Surveys
Review patient satisfaction surveys before you decide on the best Buffalo dermatology practice. This will provide you insight into how your dermatologist practices medicine, how flexible staff are with scheduling appointments, the friendliness of the practice, average wait times, and the overall feel of the environment.
This will give you a better picture of how well your dermatologist answers questions and pays attention to each of his clients.
9. Consider the Office
It is important that you consider where you will be treated. The Cosmetic Vein & Laser Center is renowned as the most innovative practice in Western New York. Our building is conveniently located and one of the only locations to offer the newest devices and laser options. Our state-of-the-art office building features comfortable individual suites. These suites are designed to make you feel safe and welcome and house our progressive, unique laser technology to give you the best results.
10. Consider the Treatment Options
In Western New York, the Cosmetic Vein & Laser Center is the only Buffalo dermatology practice that specializes in cosmetic dermatology, cosmetic laser treatments, and treatment for spider veins and varicose veins. We base our practice on safety, innovation, and quality of care and provide our clients with cutting-edge, non-invasive cosmetic technology.
11. Ask to See Before and After Photos
It's true that a picture is worth a thousand words. If you have a particular treatment in mind, ask to see before-and-after photos of real people treated by your dermatologist. This will help you get a good understanding of realistic results and help you decide if the treatment is right for you. Ask for pictures of clients with a similar skin type, skin tone, and condition as you.
A Few of Our Services
Among the services we offer are CoolSculpting, laser treatments, Botox, and dermal fillers and vein treatments. These are designed to treat a variety of conditions.
Unwanted Scar Removal
From acne scars to surgical scars and scars induced by trauma such as burns, we have a solution to your scar-removal needs. For hypertrophic scars, or scars that are raised, red and thickened, we offer the Fraxel Re:store laser and the yellow light pulsed dye laser. Either one of these treatments will flatten out scars and return the skin to its normal color, leaving a refreshed and normal look.
In the case of moderate-to-severe scars, we are proud to offer Lutronic Infini, Dermapen Collagen Induction Therapy, and Sciton ProFractional Therapy devices. We also lead the scar-removal industry with laser-assisted drug delivery, or LADD. This rapidly evolving, innovative therapy can be used in a number of applications. It is a highly targeted, customizable way to distribute drugs within a focused area of skin, scar or stretchmark.
CoolSculpting
CoolSculpting is renowned for being the world's favorite non-invasive method of fat removal. It freezes and eliminates excess fat cells without surgery or downtime. There is no damage to your skin or surrounding muscle cells, and the treatment doesn't hurt because the cold numbs your skin temporarily.
Whether your trouble spot is a second chin, back fat at the bra line, your inner or outer thighs, your lower abdomen, or somewhere else, if there is an inch of pinchable fat, we can treat it. Each session only takes between 35 to 75 minutes depending on the size of the area that needs to be treated.
We also offer what we call DUALsculpting. We can use two devices to treat two sides at the same time, making your treatment faster and more effective than you'd get anywhere else.
Botox and Dermal Fillers
Chemomodulators are most commonly known by their brand names, such as Dysport, Xeomin, Jeuveau, and Botox. They are all purified proteins that reduce the activity of the muscles that result in motion lines.
The use of chemomodulators is the only treatment of its type to be FDA-approved, and it can smooth moderate-to-severe motion lines around the eyes, between the eyebrows, on the forehead, and around the lips. The best part is, this treatment is well tolerated without any anesthetic.
Vein Treatments
Over 80 million Americans will suffer from some sort of vein problem at any given time. Many people feel that spider veins or varicose veins make them look less attractive. If you have a venous condition and you still feel confident in your skin, that's great! However, this condition can lead to potentially life-threatening conditions later if not treated promptly.
Genetics is the leading factor in varicose or spider veins. Other risk factors include pregnancy, obesity, age, injury and hormonal imbalances. To treat spider veins, we are proud to offer innovative spider vein laser therapy and safe, effective spider vein sclerotherapy. We will perform a thorough examination prior to your spider vein treatment and may take a non-invasive ultrasound of your affected area to make sure there are no underlying problems.
Varicose veins are by far more likely to cause significant health problems. They can cause leg ulceration or dermatitis if left too long. They typically have uncomfortable symptoms, such as fatigue, heaviness, and pain. They are even a risk factor for blood clots and phlebitis, and blood clots have the potential to travel to your lungs.
To treat varicose veins, we offer ultrasound-guided sclerotherapy, Duplex Ultrasound examinations, ambulatory microphlebectomy, or ambulatory phlebectomy and endovenous laser therapy.
Feminine Rejuvenation
Many women are embarrassed by their feminine health. At the Cosmetic Vein & Laser Center, we believe no woman should ever suffer in silence. We have two board-certified female doctors on staff. Whether you're experiencing vaginal laxity due to natural childbirth or simply because of aging, your experience is perfectly normal and absolutely treatable.
We offer feminine rejuvenation treatments to correct urinary incontinence, increase sexual satisfaction, and help you regain your confidence. We are proud to offer IntimaLase for women who suffer from vaginal relaxation syndrome. This loss of vaginal structural form is most often caused by a reduction in collagen production. IntimaLase is an innovative laser treatment that stimulates collagen production and tightens the vaginal canal, enhancing sexual satisfaction.
For urinary incontinence issues caused by vaginal laxity, we offer IncontiLase; a non-surgical treatment that involves non-ablative photothermal stimulation to encourage collagen production. This shrinks and tightens the mucosa tissues and supports your bladder. The final result is fewer leaks and sudden urges to "go".
Contact the Cosmetic Vein & Laser Center Today
When it comes to the health and appearance of your skin, nails and hair, experience, training, and technology matter. To learn more about Buffalo dermatology, contact the dedicated beauty professionals at the Cosmetic Vein & Laser Center in Buffalo, NY today to schedule your initial consultation.